Home

/

ALARM.COM ADC-VC836: 2.1MP PoE Indoor/ Outdoor Turret Camera 30m IR IP67 2.8mm
ALARM.COM ADC-VC836: 2.1MP PoE Indoor/ Outdoor Turret Camera 30m IR IP67 2.8mm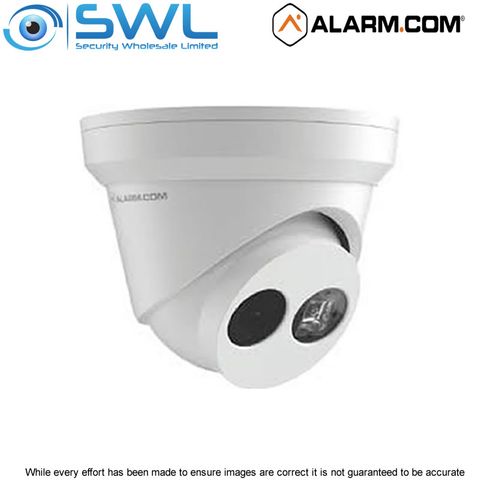 POA
Description
The Alarm.com ADC-VC836 is an outdoor turret camera providing top-quality video surveillance for Alarm.com users. The camera offers 2Mp recording capability and its tamper-resistant design makes it ideal for both residential and commercial locations needing video monitoring.

A wide 108° viewing angle helps the ADC-VC836 cover a larger area. Its IR night vision range of up to 30m lets it record in the darkest of environments. It has a full 0 to 360° adjustment capability for pan and rotation and a 0 to 75° tilt capability. Image adjustment features include flip, brightness, contrast, saturation, sharpness and exposure.

Power over Ethernet (PoE) capabilities let the ADC-VC836 receive power over a hardwired ethernet connection. Alternatively, a plug-in DC transformer can also be used. Pl Whether PoE is utilized, or a separate transformer is used, the camera will require a hardwired Ethernet cable to connect it to the network. This cable is not included. The camera features a weather protection rating of IP67, making it both waterproof and dust-tight. Ceiling mount only.

Outdoor Key Features:
* Maximum Resolution - 2.1MP 1/28" CMOS
* Lens / FOV - 2.8mm Fixed. 108° (H)
* Angle Adjustment - Pan: 0 - 360°, Tilt: 0-75°, Rotation: 0-360°
* Low-Light Sensitivity - 0 Lux IR on
* IR Range - Up to 30m
* Image Adjustments - Flip, brightness, contrast, saturation, sharpness, exposure
* Video Motion Detection - 3 windows, adjustable sensitivity and threshold
* Wireless Connectivity - No. PoE / LAN.
* Ethernet connection - 10/100Mbps RJ-45
* Operating Temperature - -30°C - 60°C
* Max Power Consumption - 12VDC, 6W or PoE 7W
* Ingress Protection - IP67
* Dimensions - 127mm x 96.5mm

Included Accessories:
Camera, Camera stand, Mounting hardware, Drill template, Hex key (Allen wrench), Water-resistant cap.

Please sign in to your SWL account to access installer manual.

If you are interested in becoming an approved Alarm.com dealer please contact your SWL Rep.
Downloads