Home

/

Shipping & Returns
Shipping & Returns
Returns Information:
If you're not satisfied with your purchase, please return the item(s) for direct replacement or credit within 30 days. When sending returns, please fill our RMA form (.pdf link) download Here
Our RMA Form is required to be completed with any product return.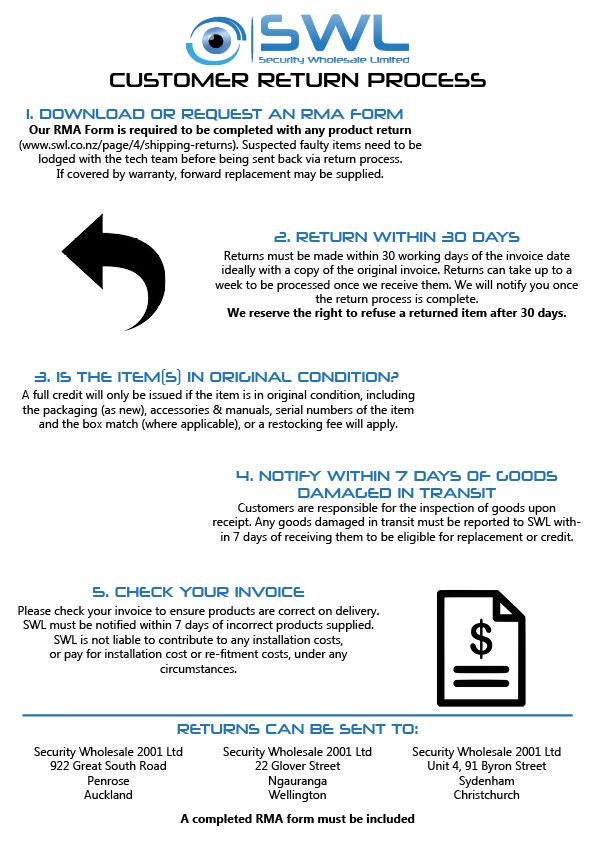 If you have any other questions about returns, please feel free to email: trade@swl.co.nz
Order Pick Ups:
If you are based in Auckland or Christchurch then you can pick up orders from our our offices listed below. Please allow at least 3 hours for us to prepare your order.
SWL Auckland, 922 Great South Road, Penrose, Auckland. Click here to open in google maps


SWL Wellington,22 Glover Street, Ngauranga, Wellington. Click here to open in google maps


SWL Christchurch, Unit 4, 91 Byron Street, Sydenham, Christchurch. Click here to open in google maps
Delivery Destinations:
At Security Wholesale we ship nationwide within New Zealand and to the wider Pacific Region.
Generally, orders for delivery within NZ are despatched the same day via New Zealand Couriers.
Orders for the Pacifc Region will require your freight forwarders details and your account number.
Delivery Cost:
All orders over $500.00+ GST are shipped freight free within New Zealand.
Orders to be shipped with a value under $500.00+ GST will incur freight of $11.40+ GST.
Freight fees for the Pacific Region will be determined by your freight forwarder and customs authority.
Delivery Times:
Most in stock credit-approved orders for standard delivery placed before 2:30 pm will be shipped on the same day. All orders are generally delivered overnight in the N. Island and S. Island when despatched locally. For rural deliveries please allow an extra day. Please note we do not control or influence courier performance from your local depot. Let us know your preferred courier.
Tracking:
All shipments are tracked with a unique tracking number and you'll receive a notification of despatch by email.
Sales Taxes:
We are required to automatically charge and withhold the applicable GST for orders to be delivered to addresses within New Zealand. Each customer shall be solely responsible for all sales taxes, or other taxes, on orders shipped. Pacific Region orders for export from New Zealand do not incur NZ GST. Local import taxes will apply on entry.