NEWS - Last 6 Months (or so)
May 2020
Assa Abloy Electronic Lock Solutions
To compliment our Kantech Access Control Range we are pleased to announce a new partnership with Assa Abloy. We will stock their most popular solutions including legendary Trimec Electric Strike and Magnetic Locks, Lockwood Standard & Narrow Set Mortice Locks, as well as a focussed range of matching Mortice Handle Sets. Branches will hold 'emergency' stock and have access to large quantities by arrangement. Call your regional branch for stock availability and project pricing.
March 2020
COVID-19 Response
Supply Plan For 'Essential Security Supplies' Levels 3 & 4 (Amended May 2020)
In these unprecendented times the wellbeing of staff and customers alike is paramount.
SWL is an 'essential' supplier providing Integrators (who are themselves deemed as 'essential') with specific security solutions to support the physical security of vital infrastructure and essential services. We may also supply solutions to protect commercial property and those who are vulnerable.
At 'lockdown levels' 3 & 4 if you need to order something from us, please do this on line or call your regional branch number. Our Regional Managers are your first point of contact at L3 & L4. You will find their details here.
We'll need to know what your order is for to ensure it falls under our mandate to supply. We'll then check we have the stock you need and confirm a delivery/ collection plan. It will be helpful to have a note about the urgency level of your requirement when you contact us.
The Team @ SWL
February 2020
New Envisalink EVL-4 IP Interface: Smartphone Control of 'Legacy' DSC PowerSeries Panels
A valuable new offering to DSC integrators and their customers is now available at SWL.
EnvisaLink 4 is a powerful TCP-IP based bus-level interface to DSC PowerSeries panels -PC1555, PC5010 (832), PC5020 (864). PC1616, PC1832, PC1864.
It allows your customer to view the status of and even control their alarm panel through a standard web-browser or smart-phone. VOIP Friendly. As new software features become available the EnvisaLink 4 is easily upgraded over the network and automatically keeps itself up to date. The EnvisaLink 4 is already compatible with many major home automation systems and numerous 3rd party Android and iPhone apps.

With the addition of the free EnvisAlerts service customer control is enhanced and can be extended to anywhere in the world. EnvisAlerts also allows you to specify e-mail or SMS addresses to receive alarms, arms, disarms and more.
January 2020
New Dahua 4Mp STARLIGHT, Active Deterrent & Full Colour Cameras
In stock are five new camera models upgrading and enhancing Dahua's capable dome and 'eyeball' turret camera solutions. These include an outstanding value for money Series-2 indoor camera 43820 and STARLIGHT enhanced 4Mp Dome and 'eyeball' options 44120 & 44122. In addition, Dahua's 'Active Deterrent' camera 44132 features two-way audio, replay of pre-recorded or custom warnings when AI rules are triggered - as well as using a bright white LED strobe. Our demo website in Christchurch consistently shows the value of this solution. We also now stock an ultra low STARLIGHT PLUS Full Colour 'eyeball', 44128 which will provide true colour evidential pictures in scenes down to 0.0016Lux/F.16 !
December 2019
Provision-ISR Power, PoE and HDMI Solutions
Our good friends at Provision-ISR have released a number of helpful solutions to overcome some common installation issues.
First of all we have a 60W PoE Injector 34202. Complimenting this is a PoE Extender (+ splitter 1 to 2) 34204, which we've used with great success in a number of ways. For analogue camera and access control integrators take a look at the 9CH 10A power supply with battery back up in cabinet 34560. Sean Barret-Hamilton has tested this device - it has some very useful features.
Last but not least we're now stocking some well priced HDMI Extenders 34605 & 34610 to boost signals up to 60m.
November 2019
Knight Fire & Security/ SWL Reed Switches & Junction Boxes: BS EN 50131: +
NYLON REED SWITCH solutions are here. Your customers now have weatherproof, armoured, anti-corrision reed options for a variety of doors complying to European security design, manufacturing and testing standards. Check out Knight Security & Fire's tampered weatherproof junction boxes; to specify a solution capable of resisting challenging security environments here.
DSC Impassa, Legacy PowerSeries & Maxsys Arrive (at long last....)
Check out our website from 29 November......we'll be togged up and ready for the anticipated summer release of the solutions we've all been waiting for. 'Now we just need the latest DSC IoTega alarm solution to land and we're holding a Royal Flush of DSC solutions to make others fold'.
SWL National Team Expands As Our Business Grows
As SWL roles out the availability of Alarm.com, DSC, exacqVision and Kantech solutions across our branches; we're ensuring our technical, sales and logistical support grows in line to maintain our legendary levels of technical, sales and customer service.
We welcome Tarina in Christchurch, Colin in Wellington and Giuseppe in Auckland to the SWL family.
See our SWL Team page here for your 'go to' branch contacts.
Alarm.com Monitored Consumer Range Arrives At SWL
We're excitied to bring the Alarm.com range of 'consumer' CCTV and Intercom wireless products front and centre to the NZ market. There are over 6 million Worldwide subscribers to this reliable and capable monitored IoT platform. Whether you're integrating an alarm system with in-built cameras in motion sensors, or taking a call from your 'Skybell' intercom at your door - Alarm.com has a solution working on it's class-leading App. Alarm.com@SWL.
MOJ Provides Helpful Guidlines Around PSPL Requirements For Electricians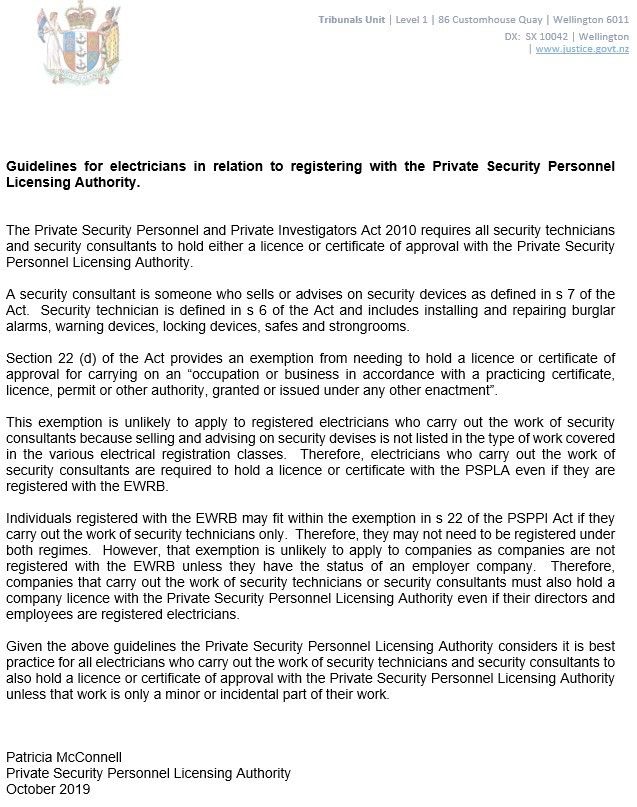 October 2019
TEXECOM PIRs & Smoke/Heat Solutions
After an abscence of 12 years SWL is proud to announce the return of Texecom PIRs and Smoke & Heat detection solutions.
Not only are these devices easy on the eye; they also meet stringent European manufacturing, performance and compliance standards. Stock will be on our shelves w/c 14 October.
Premier Elite PIRs: Premier Elite PIRs Exodus Smoke & Heat: Exodus: Smoke & Heat Solutions
Nylon Reed Switches - Coming Soon
We continue to search for 'best of breed' solutions and have formed a highly anticipated commercial partnership with a European manufacturer specialising in designing and producing Nylon Reed Switch solutions. Think resistance to water-based corrosive environments, providing your customers with longterm reliable performance and peace of mind. These devices hold the promise of being a game changer in the NZ market.
September 2019
DSC Neo Arrives !
SWL is proud to release this iconic brand to the market. DSC has been at the top of many integrator's thinking for intrusion protection solutions for more than 30 years. This gear just doesn't break and the Neo range has taken a giant stride to overcome our natural reticence about 'wireless' technology. Think of a reliable, flexible platform with a host of solutions and tools to meet your customer's alarm system requirements....now think Neo. Fully supported by SWL and ready to go.
Kantech Access Control Arrives !
We asked our Kantech Guru (SB-H); 'Have you had any failures over the past 15 years ?' Imagine our disappointment when he said 'YES'. Thankfully he informed us, 'If you put 230VDC into a system it's going to fry and the same technician did it twice !' Suffice to say we're backing Kantech to be a robust solution.
Not content with solutions as we find them, SWL is working on an innovative power solution to meet stringent compliance criteria - beyond NZ's current requirements. Watch this space...Kantech
August 2019
Provision-ISR Announces 'DDA' Analytics Capability & New Camera Range
Not only is the new GUI rolling out but we're holding our breath for analytics that will rival any Chinese manufacturer's capability. Categorise people, vehicles and bicycles....you bet. Provide reliable facial recognition database searches and efficient notification when a match is recognised....sure. Take a look......Provision-ISR DDA Analytics
July 2019
SWL Announces Distribution Partnership With Alarm.com
Provision-ISR Release Ossia Enhancements
Provision-ISR have confirmed enhancements to Ossia for DVR and NVR platforms. These will role out from July to September.
Enhancements include: New Startup wizard, HDD encryption, POS enhancements, 802.1x Authentication Protocol, Full Analytics Support on 'F' models and new Face Recognition Interfaces. We can't wait to try it out.
May 2019
SWL is appointed as a New Zealand distributor for DSC and Kantech Solutions
Archive: October 2018
SWL is appointed as Provision-ISR's exclusive New Zealand Partner
Click here to link to Provison-ISR news