Home

/

Avigilon ACC 6.0 Standard To Enterprise Upgrade License 4 Channel
Avigilon ACC 6.0 Standard To Enterprise Upgrade License 4 Channel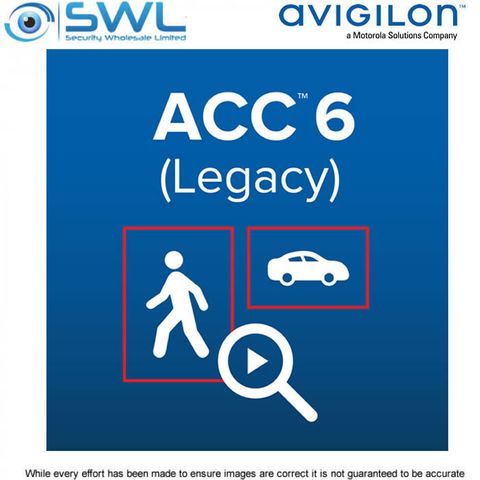 POA
Description
ACC 6.14.14.2 Jan 2020

ACC™ software is easy-to-use video management software that optimizes the way security professionals manage and interact with high-definition video. It efficiently captures and stores high-definition video, while intelligently managing bandwidth and storage using our patented High Definition Stream Management (HDSM)™ technology. ACC 6 software combines an intuitive interface with advanced search functions called Avigilon Appearance Search™ video analytics technology and Unusual Motion Detection (UMD). Avigilon Appearance Search technology and UMD are sophisticated deep learning artificial intelligence (AI) search engines that enable users to quickly locate a specific person or vehicle of interest or identify motion anomalies across an entire site.

SELF-LEARNING ANALYTICS
ACC video management software enables analytics events and alarms to be viewed and searched through an intuitive user interface. Real-time events and forensic capabilities detect and notify scene changes and rules violations.

AVIGILON APPEARANCE SEARCH TECHNOLOGY
Avigilon Appearance Search video analytics technology is a sophisticated AI search engine for video data that now incorporates the characteristics of a person's face. It sorts through hours of footage with ease, to quickly locate vehicles of interest or people even if items such as their clothing change over time across an entire site with ease. Using Avigilon Appearance Search technology can dramatically improve incident response time and enhance forensic investigations by allowing operators to build robust video evidence and create a powerful narrative of events. Appearance Search now allows users to initiate a search for a person by selecting certain specific physical descriptions.

UNUSUAL MOTION DETECTION
UMD is an advanced artificial intelligence (AI) technology that brings a new level of automation to surveillance. Without any predefined rules, UMD technology continuously learns what typical activity in a scene looks like, and then detects and records motion anomalies. UMD is supported by the H4A & H5A, H4SL & H5SL and H4 & H5 Mini Domes camera lines.
Downloads