Home

/

Dahua NVR4104HS-P-4KS2/L: 4CH, 4x PoE, 1x 2Tb HDD INCLUDED
Dahua NVR4104HS-P-4KS2/L: 4CH, 4x PoE, 1x 2Tb HDD INCLUDED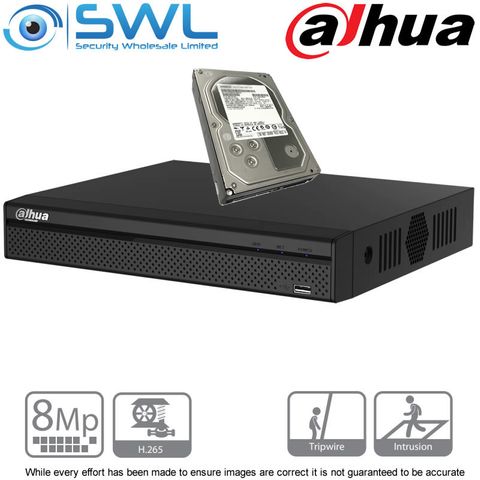 POA
Description
Dahua NVR4104HS-P-4KS2/L: 4CH, 4x PoE, 1x 2Tb HDD INCLUDED

This NVR is a 'hardened' version of the plastic, white case 'Smart Box'.

Working with IVS and AI enabled IP cameras, the NVR recognizes and records video containing IVS data on all IP channels. The NVR records standard intelligence at-the-edge features, as well as premium IVS features detecting abandoned or missing objects, Tripwire violations, and intrusion violations.

The NVR is also capable of recording business analysis data: Facial Detection, People Counting & Heat Mapping from IP cameras with built-in Intelligent Business Analytics.

Key Features:
* IP Video Inputs - 4 onboard PoE Ports
* PoE Output - Max 25.5W for single port. 50W total budget
* Max Input / Record - 80Mbps
* Max Decoding - 2ch@ 4K, 8ch@ 1080P max
* Video Compression - H.265+ / H.264+
* Display Outputs - 1x HDMI, 1x VGA output. Simultaneous video output
* Audio - Two way Talk, 1 channel Input, 1 channel output
* Storage - 1x Drive bay. Max 6Tb (not included)
* Ethernet Port - 1. Independent 100Mbps port
* IVS Support I - Tripwire, intrusion, Object abandoned / missing
* IVS Support II - People counting, Heat map
* Key Features - 4K resolution support. ANR feature when cameras have edge storage
* APP Support - iPhone, iPad, Android. X-DMSS from phone App store.
* Dimensions - 260mm x 225mm x 47.6mm

EATON UPS Options:
* EATON 5E UPS 650VA/360W, 2x NZ OUTLETS 13070
* EATON 5E UPS 1100VA/660W, 3x NZ OUTLETS 13076

For full NVR specification download data sheet below.
Downloads